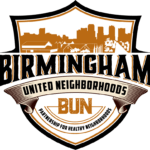 Background and Mission of
BIRMINGHAM UNITED NEIGHBORHOODS
Birmingham United Neighborhoods (BUN) is a coalition of 8 neighborhoods, working with the UAB Center for the Study of Community Health since 2017 when they collaborated on plans for the 2019-2024 core research project, CHEER. BUN provides input to guide CHEER, and 2 representatives from BUN serve on the Center's community participation Board, which advises on the Center's research, translation, training, and service activities.
In September 2018, the representatives of the 8 neighborhoods decided to establish themselves as Birmingham United Neighborhoods, with a mission to improve neighborhood health through collaborative partnerships and projects. Rather than work separately on neighborhood issues, BUN decided to work collectively as a demonstration project to improve neighborhoods across the city. During a January 2019 strategic planning session led by Clarus Consulting, BUN identified environmental blight as its highest priority.
BUN has met monthly since 2018 and has established bylaws, officers, and standing committees. In addition to CHEER, BUN has applied for and received funding from the Community Foundation of Greater Birmingham and the Jefferson County Health Advised Fund for Magic City Blight Busters, a project to address abandoned and deteriorated homes, overgrown lots, and litter, "a plague identified as the greatest detriment to the health of neighborhoods." Magic City Blight Busters (MCBB) will energize and coordinate residents to adopt areas for clean-up and maintenance. The Blight Mobile will swoop in on overgrown lots to pick up trash, cut weeds/brush, and put faux windows/doors on abandoned houses. Residents will be empowered to use Land Bank policies and city code to revitalize their communities consistent with Framework Plans. After evaluating pilot interventions, MCBB will disseminate a toolbox of best practices, instructions, templates, and list of materials for any community to address blight.
ONGOING PROJECTS
Magic City Blight Busters is a new program developed by Birmingham United Neighborhoods (BUN) to inspire and motivate residents to get more involved in reducing neighborhood blight and trash.  It is a fun way to engage residents to restore the historic beauty of Birmingham's urban neighborhoods through four separate projects.